Getting To Know Sports Broadcaster Kate Abdo
The internationally known on-air personality scores as host of CBS Sports' UEFA Champions League coverage.
Spotlight | Brought to you by
Watch
Her charismatic personality and razor-sharp wit have captivated soccer fans around the world and now, British-born
Kate Abdo
is a fast-rising star Stateside, too. She hosts
CBS Sports
' first-ever network broadcast of the
UEFA Champions League Final
this weekend (Saturday, May 29, with coverage starting at 1:30 PM ET on CBS and
Paramount+
) and the
Concacaf Men's Nations League Finals
(live coverage begins June 3 on
Paramount+
and
CBS Sports Network
).
STREAM NOW: See All Of The UEFA Champions League Action On Paramount+
The industry veteran, whose career spans four countries and seven networks, joined the CBS Sports team in August 2020 as part of its rapidly expanding coverage of soccer. Abdo brought a wealth of experience covering international soccer's top events, including the UEFA Champions League and UEFA Europa League, FIFA Men's, and Women's World Cup. She's hosted coverage of the top European leagues for networks in the United States, United Kingdom, Spain, and Germany as well as some of the most prestigious awards ceremonies in world sports, including the FIFA Ballon d'Or multiple times.
Watch
caught up with Abdo about what it's like to be a game-changer, both behind the camera and in front of it.
Catch the UEFA Champions League Final this Saturday, May 29 live on CBS and Paramount+, with coverage starting at 1:30PM ET. Tune-in to CBS Sports HQ, the 24/7 streaming sports news network, for complementary pre-match and post-match shows.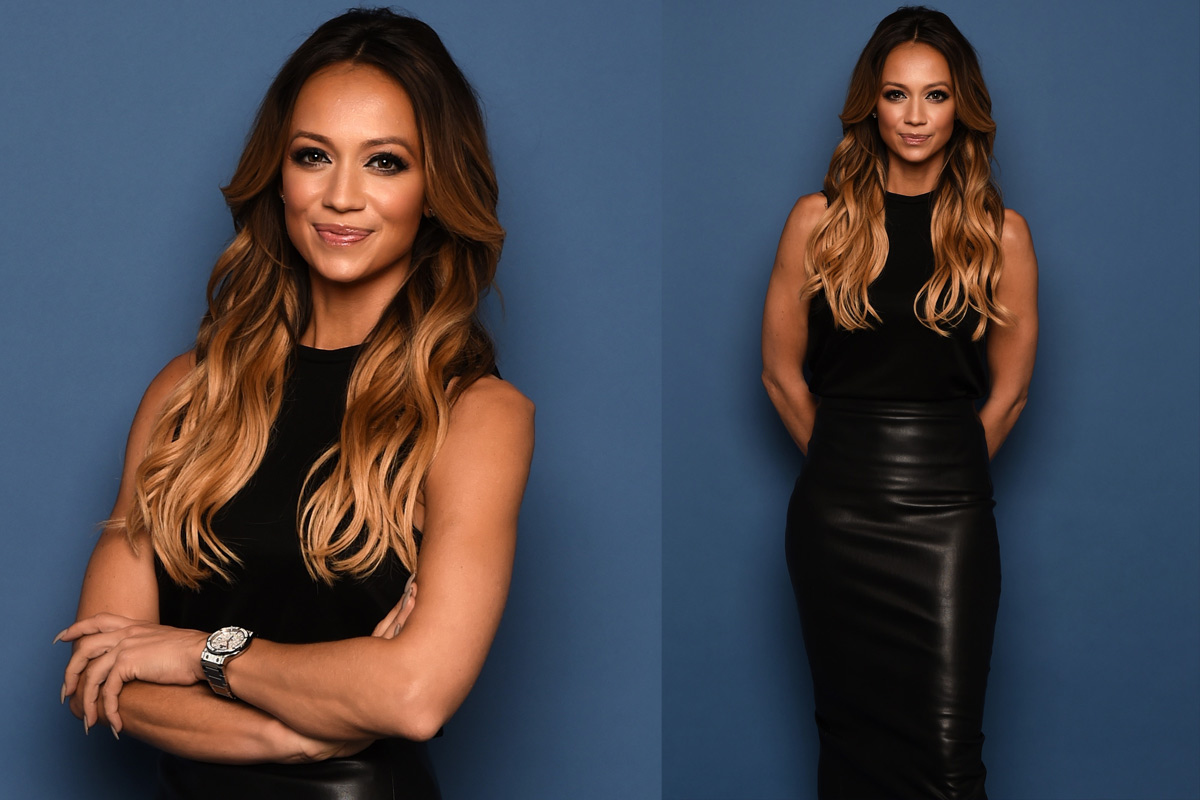 Photo Credit: Kohjiro Kinno/ESPN Images
What drew you to a career in sports and what has helped you find success?
I've always loved sports. My parents were both physical education teachers and were always passionate about us kids being involved in sports. Growing up, I loved track and field. I didn't initially know I wanted to work in sports–I thought I wanted to be an interpreter/translator, and that's what I studied in college. I moved away from home at 17 to Spain because I wanted to learn Spanish. I moved from there to France and then to Germany. I've always been willing to put myself in situations that feel uncomfortable initially, and I believe a lot of growth comes from that. I think the same applies to live TV–that pressure can feel uncomfortable at times. But there is a special joy in conquering the moments you find uncomfortable.
What's your favorite thing about the game of soccer?
The passion of the crowd. It's hard to find any other sport where it is matched, or even comes close. Every emotion feels amplified in a futbol stadium. The energy of the crowd is palpable, and I love to see the way the game and the players feed off it. There are few sports where the crowd influences a game the way it does in soccer. That connection between the game and the fans is unique–I love it.
Even though the U.S. soccer audience is increasing, there's still room to grow. How important is it to offer American fans hard-hitting soccer coverage from a global perspective?
I think America has always had the best TV in the world. It's always been the home of the entertainment industry. NFL, NBA coverage–they always feel big. But that hasn't always the case with soccer.
Soccer coverage in this country has often been massively influenced by European coverage, which can feel more buttoned up and frankly, less engaging. CBS is, in my opinion, the first network that has managed to successfully combine engaging television with high-level analysis and coverage. With coverage like this, and a game that is already growing exponentially, I believe we can only succeed.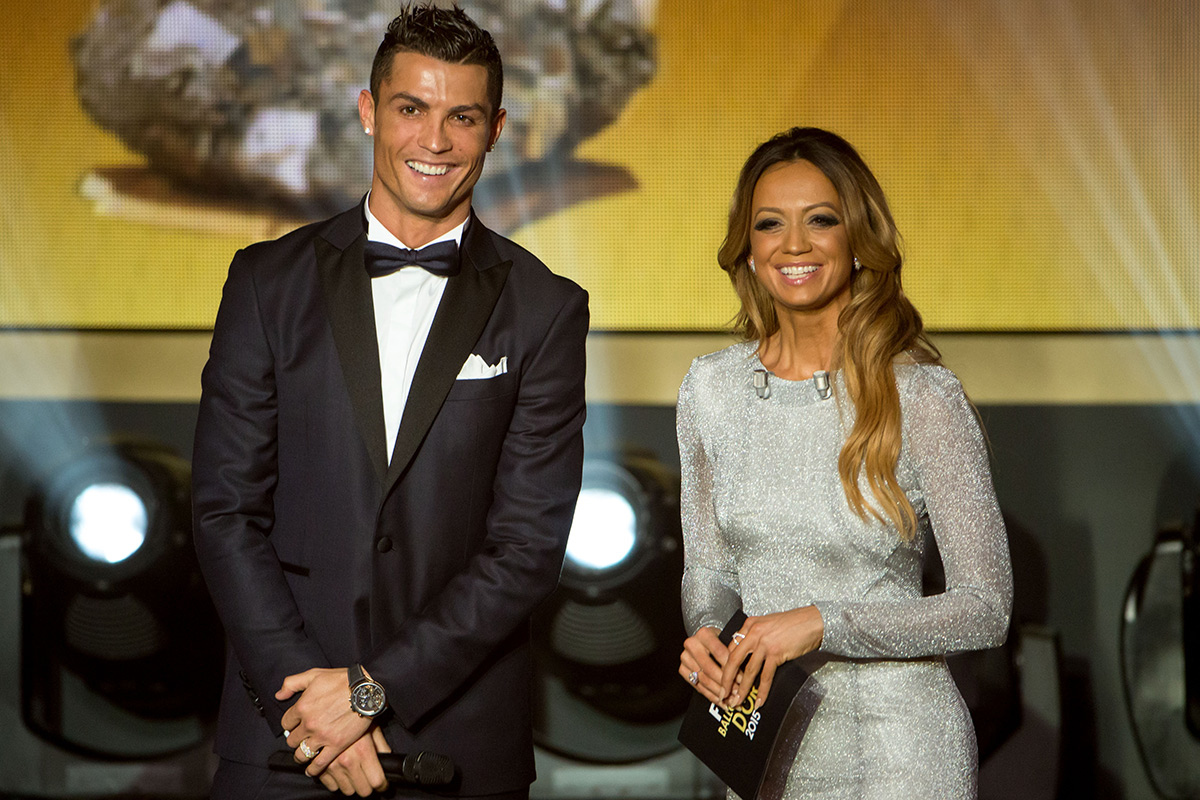 FIFA Ballon d'Or nominee Cristiano Ronaldo of Portugal and Real Madrid and presenter Kate Abdo at the FIFA Ballon d'Or Gala in 2015.
Photo Credit: Philipp Schmidli/Getty Images
SUBSCRIBE NOW: Enjoy Watch For Free With This Limited-Time Offer!
What's one of your most memorable interviews? Why?
Javier "Chicharito" Hernandez. He's a legendary name in soccer, and it was memorable for me because of his candor. An all-time great who had fallen out of form, he was open about his struggle both on the field and in his life off it. He was willing to share his own failures and hurt because he saw it as part of his journey to overcome them. Professional athletes tend to be guarded. It was a very rare day that an athlete allowed me to interview the person, and not the sportsman, and I hugely appreciated that.
What makes CBS Sports' UEFA Champions League coverage different or special from your past experiences?
I'm proud of our coverage. It feels like it truly represents the people at the desk. I think it's rare for a show to empower the personalities it has. That might sound like a no-brainer, but oftentimes the format rules. I think [producer] Pete Radovich has a special eye for personality, chemistry, and a unique ability to create a platform to showcase that. The talent we use have been on both British and American TV before, but none of them have ever been as real as I believe they are on this show, nor enjoyed themselves as much on air. As the host, I consider myself part of the structure that allows the analysts with me to shine. And this is the first time I've ever felt truly empowered to do that.
Kate Abdo and co-hosts Jamie Carragher, Roberto Martinez, and Micah Richards in CBS Sports' London studio for the Network's UEFA Champions League coverage.
Photo Credit: Luke Walker/Getty Images
What is your mantra/goal as the host of a show about the world's sport for a fast-growing segment of American audiences?
My goals are authenticity and engagement. I just want our show to be good TV for anyone who's watching, soccer nut or not. The big discussions in soccer are the same whatever show you are having them on. I just want us to have them in a non-formulaic, genuine way. I feel like good TV carries to both an audience who knows the game and who doesn't. I don't know basketball, but I can still watch an hour of "Inside the NBA." I think what you experience on set is what the audience experiences too. If I'm blown away by Roberto's (Martinez) tactical breakdown, then so is the viewer. If Jamie (Carragher) can make me belly-laugh on air, then the viewer is probably laughing with us too.
Oftentimes we have fun in the green room, and then we over intellectualize when the camera is on. Sports are about passion and emotion. If we can transmit that, we're doing the right thing.
When not hosting CBS Sports' soccer coverage, what do you like to do? (Do you have a hidden talent, passion project or creative pursuit that your fans may not know about you?)
I box nearly every day. Boxing is my favorite sport. I can spend forever sitting and watching sparring in the gym. I love to learn the sport, and I love to watch people fight. I love the art. And I respect the bravery. The boxing gym is my happy place.
Catch the UEFA Champions League Final this Saturday, May 29 live on CBS and Paramount+, with coverage starting at 1:30PM ET. Tune-in to CBS Sports HQ, the 24/7 streaming sports news network, for complementary pre-match and post-match shows.
DISCOVER MORE: Check Out The Latest Issue Of Watch—Available Now!