Download These Custom Zoom Backgrounds From The Late Late Show
Add some flair to your Zoom meetings with custom animated backgrounds, courtesy of your friend James Corden.
Posted on Apr 13, 2020 | 08:00pm
As Zoom meetings become the new normal,
The Late Late Show with James Corden
has your back with a few custom backgrounds to add some spice to your video conferences.
WATCH: Full Episodes Of The Late Late Show With James Corden
James will continue to release new backgrounds in the coming weeks/months, so keep coming back here for the latest downloads.
To download the animated Zoom backgrounds for desktop only:
1. Click on the link, which will open the video in a new window.
2. Right click and choose "Save Video As..." to start downloading the file to your desktop.
With all that logistical stuff outta the way, we are proud to present the second batch of animated Zoom backgrounds from your pals at
The Late Late Show
.
WATCH: James Corden Introduces The Late Late Show Zoom Backgrounds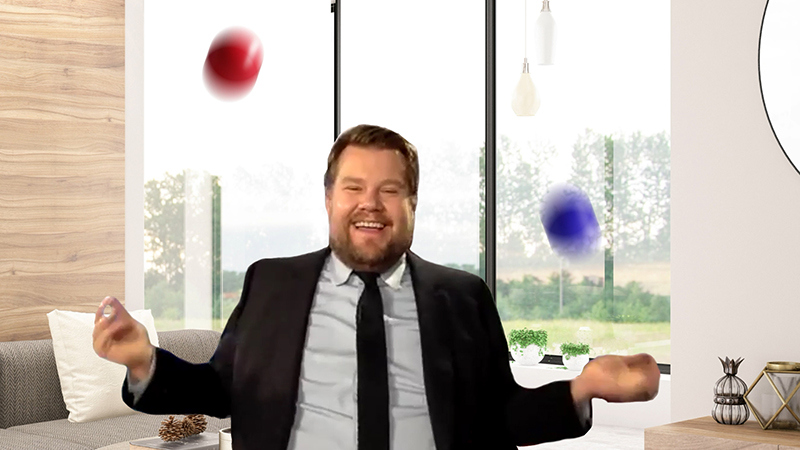 Eager to convince your coworkers that you're using your downtime productively and learning some new skills? Maybe juggling wasn't what you had in mind, but in these times, we'll take what we can get.
DOWNLOAD: "Learn to Juggle" Custom Animated Zoom Background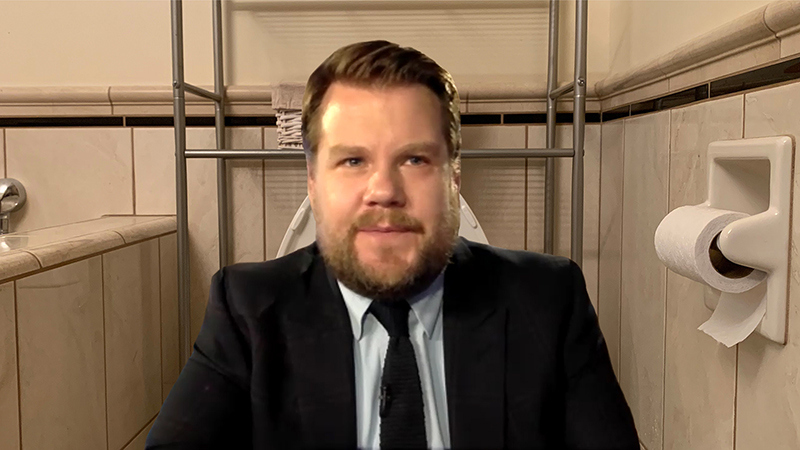 It's a nightmare scenario: Your boss is about to ask you to give that final report when you realize you need to hit the can. But with a little planning ahead, this background can help you do both at once! Just set this as your Zoom background at the beginning of the meeting. Not only will it get some laughs—"It's just a bit, guys!"—but little do your coworkers know, it will also allow you to complete two tasks at once.
Disclaimer: Neither
The Late Late Show
, James Corden, nor CBS are endorsing using the bathroom while on a live Zoom call and cannot be held responsible should any negative repercussions occur. Poop at your own risk.
DOWNLOAD: "Bathroom Break" Custom Zoom Background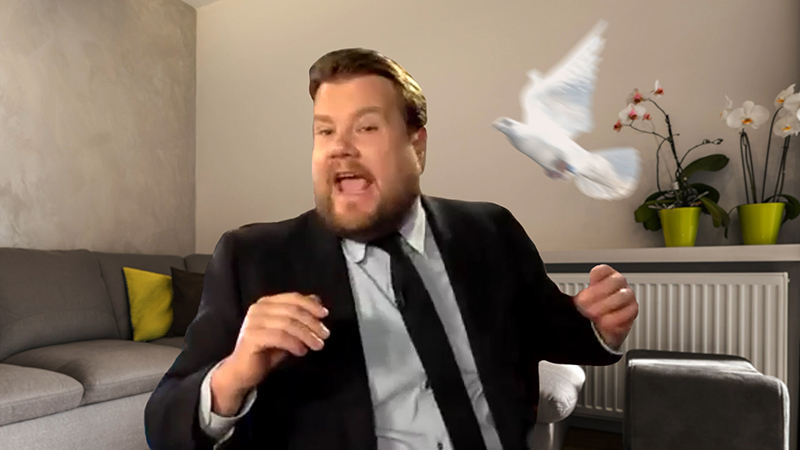 And now, for the slickest excuse to abruptly leave a meeting you've ever seen. Sitting there, minding your own business, and suddenly a bird's in your house? No one will be able to object to your immediate departure to deal with that pesky critter.
DOWNLOAD: "Bird In The House" Custom Animated Zoom Background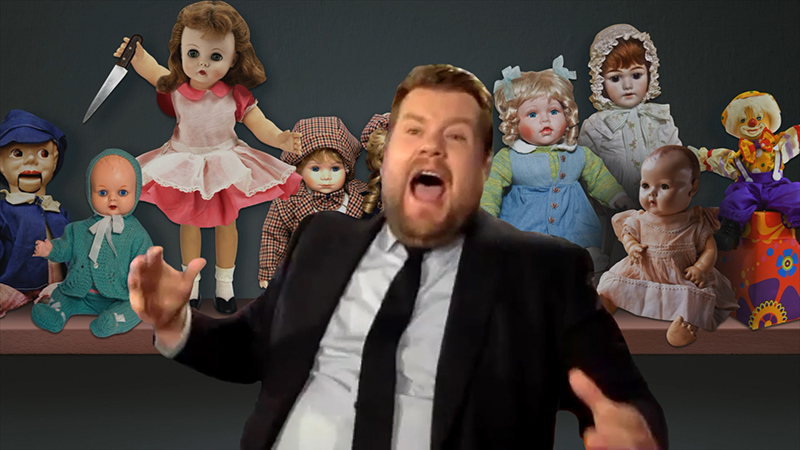 If your meetings are leaving you sleepy, inject a little excitement and mystique with a creepy doll collection—complete with a murderous, knife-wielding doll. Your coworkers won't worry where you are when you skive off tomorrow; they'll assume you're dead.
DOWNLOAD: "Doll Collection" Custom Animated Zoom Background
See the first round of Zoom backgrounds below.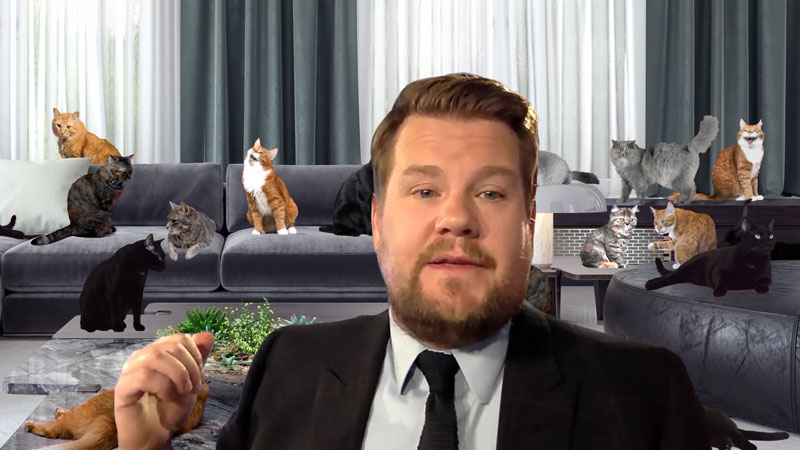 Coworkers, family, and friends are sure to be impressed with—or worried by—your burgeoning cat collection, so it wouldn't be a bad idea to name all your new roommates before introducing them to your nearest and dearest.
DOWNLOAD: "Cat Roommates" Custom Animated Zoom Background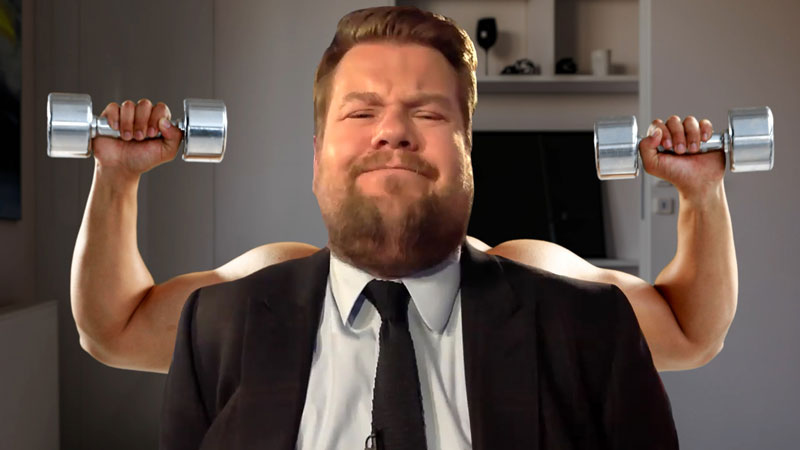 Don't worry, no need to stick to any stringent workout regime with this background. It'll do the shoulder presses for you!
DOWNLOAD: "Getting Ripped" Custom Animated Zoom Background
In case you don't know how to upload these to Zoom, here are easy step-by-step instructions for desktop:
1. Open the Zoom app on your computer.
2. Click on your profile, then tap "Settings."
3. Select "Virtual Background" from the menu.
4. Click the plus sign (+) next to the "Virtual Background" title and select the file from your computer.
5. Make sure the background is selected.
6. Get Zooming!
Keep coming back as more custom Zoom backgrounds get released here.
Watch
The Late Late Show with James Corden
weeknights at 12:37am/11:37pm c on CBS and
CBS All Access
.